Young Artists and SUS-TER, making the territory our classroom.
SUS-TER Project will remain alive in a mural in a street in the city of Manizales, department of Caldas thanks to Pinta Resiste, an interdisciplinary collective made up of a group of young people and undergraduate and master's degree students in Visual Arts from the University of Caldas, a partner of SUS-TER Project.
Pinta Resiste "felt the need to express their creations and protest through art on the walls. Their expression goes beyond what we usually contemplate under certain aesthetic parameters, since it seeks to question the established, to proclaim visually in the public space what the media censure and to carry their messages in a transversal way. On 20 November 2019 they made their first intervention in the city of Manizales as part of the social protests at national level, and as part of the youth collectives that gathered in the streets to cry out for social justice and the value of life in Colombia. Their activism through art and murals has spread to different territories and contexts in the country.
For the SUS-TER mural, the collective was inspired by the concept of MAKING THE TERRITORY OUR CLASSROOM, which resonates deeply with the way in which these artists influence the city, transcending the walls of the university and creating their work in unconventional spaces where they connect and interact in other ways with the community.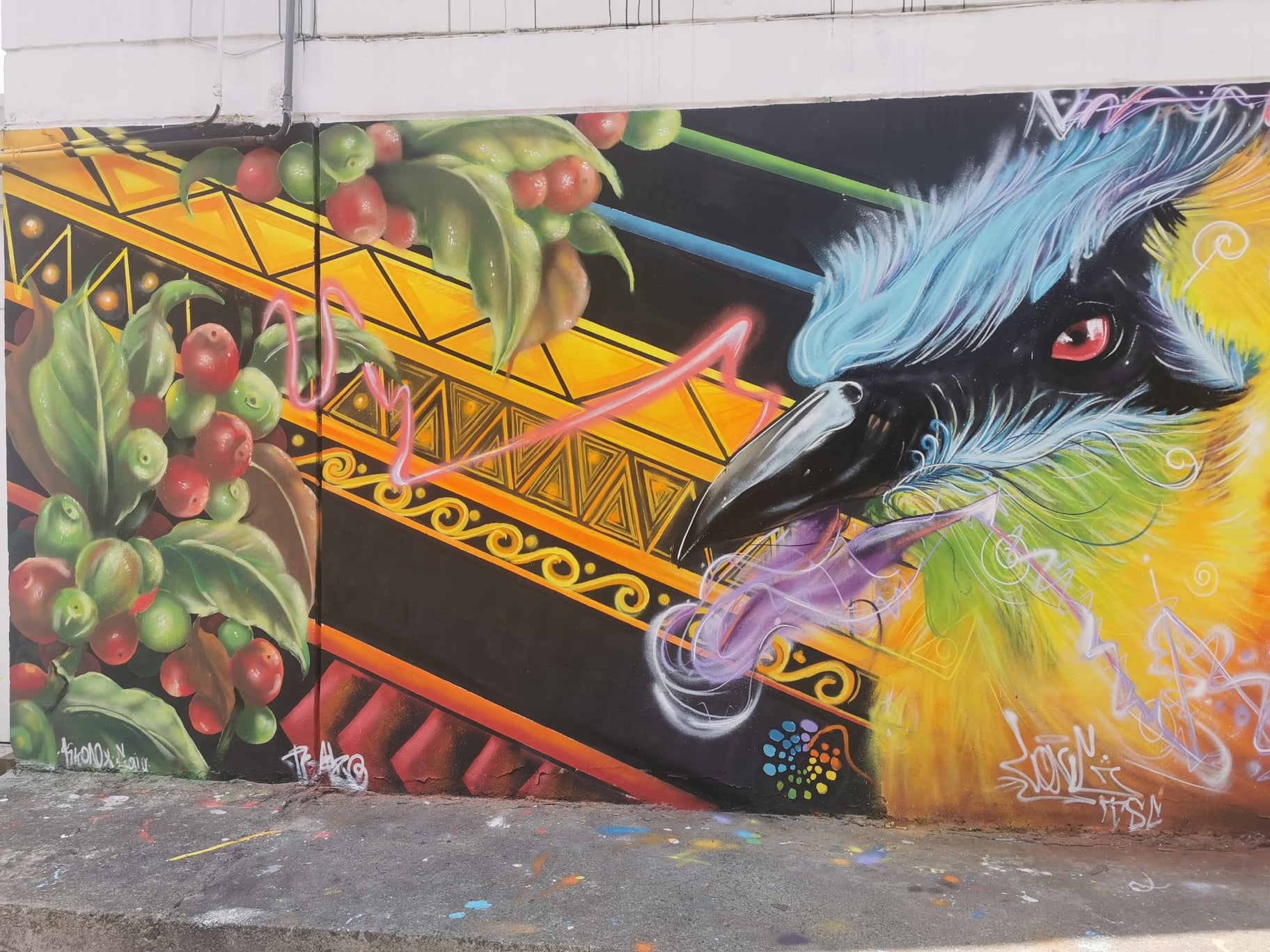 Appealing to territorial symbolism, sustainability, inclusion and the exchange of cultural knowledge, the following components were included in the mural: the ravine bird, a tribute to biodiversity in Colombia; a child with indigenous features as hope for the future and ancestral knowledge; pre-Columbian, Mayan and Aztec signs; the dandelion associated with the visual identity of the project and the steps that germinate; coffee as a fruit that interconnects the producing countries (Costa Rica, Mexico and Colombia) with the consumers (Italy, Spain)" (Source: Pinta Resiste with Diversidad Conectada – Connecting Diversity.
Part of this collective:
Nicolás Beltrán, Master's student in Plastic Arts. He is dedicated to painting and tattoos.
Jaider García is a plastic artist; draftsman, engraver and painter.
Junior Haminton, tattoo artist, artist.
From SUS-TER we thank them from the bottom of our hearts for their symbolic and, at the same time, realistic and concrete contribution.
We also thank Andrés Felipe Betancourth López for his contact and accompaniment. Cultural heritage, identity and biodiversity are at the basis of SUS-TER and his commitment to the Territory.